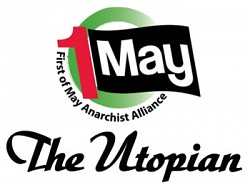 Joint Statement
We are excited to announce a formal relationship between the First of May Anarchist Alliance (M1) and The Utopian.
We have been in ongoing communication about our politics and projects for several years and have decided, because of strong political affinity, to establish a formal relationship. This relationship will deepen our collaboration and mutual promotion while maintaining autonomy for each group. It will also provide forums for dialog, debate, and critique, trusting each other to move forward as is best for each group and the growing anarchist movement as a whole.
We see this as the first step in building stronger relationships with other anarchist and anti-authoritarian groups with similar goals, approaches, and commitments, building what M1 calls a "multi-layered approach" to organizing with a commitment to revolution, a working class orientation, and a specific anarchism without hyphens (read M1's "Our Anarchism" and the Utopian's "Who We Are" to learn more).
Another world is possible, we need revolution to bring it about!
For freedom and liberation,
M1 and The Utopian
To place a comment you must apply for an account. After you fill and submit your application to us, our editors will review for approval. Also Blogs posted have to be first be approved by our editors. Please Click Here to Sign In or for our account application form Click Here.