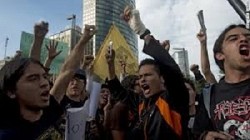 In small ways, every day, people live by cooperation, not competition. Filling in for a co-worker, caring for an old woman upstairs, helping out at AA meetings, donating and working for disaster relief – people know how to live cooperatively on a small scale. What we don't know, and no one has found a blueprint for, is how to live cooperatively on a national and international scale – even on the scale of a mass political movement.
| | | | |
| --- | --- | --- | --- |
| Size: 305.37KB | Post Date: Jul 1, 2019 | ← Back to The Utopian Vol. 18.2 - 2019 | |
To place a comment you must apply for an account. After you fill and submit your application to us, our editors will review for approval. Also Blogs posted have to be first be approved by our editors. Please Click Here to Sign In or for our account application form Click Here.