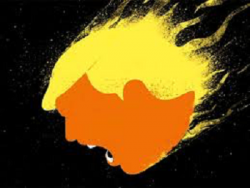 Beyond negotiating relations with various groupings and factions among the elite, US global hegemony is also dependent on the image the country projects to the world's peoples. No ruling group can maintain its hegemony without winning some degree of popular support, both abroad and at home. In other words, image matters, and Trump has significantly tarnished the image of the United States. His colossal ignorance, his clumsiness, and his unbelievable boorishness have made the country the laughingstock of the world. How can anybody take the United States seriously when it is led by such a clod and a clown?
| | | | |
| --- | --- | --- | --- |
| Size: 1,270.59KB | Post Date: Jun 12, 2017 | ← Back to The Utopian Vol. 16.6 - 2017 | |
To place a comment you must apply for an account. After you fill and submit your application to us, our editors will review for approval. Also Blogs posted have to be first be approved by our editors. Please Click Here to Sign In or for our account application form Click Here.