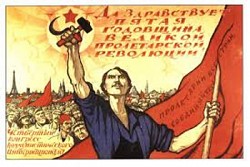 Since [1917], historians and others interested in the topic have engaged in a debate over the precise nature of the October Revolution. On one side, many mainstream historians, such as Robert Vincent Daniels, in his book Red October, and Richard Pipes, in his History of the Russian Revolution, describe the October overturn as a "Bolshevik coup." On the other side, an array of Marxists, including Leon Trotsky, in his History of the Russian Revolution, describe what actually occurred as a workers (or proletarian) revolution that was supported by the peasants. In my view, both positions, while accurate in some ways, ultimately mischaracterize the event. This issue involves the nature and limitations of our categories, the ideas and concepts we use to analyze the world in which we live.
| | | | |
| --- | --- | --- | --- |
| Size: 771.22KB | Post Date: Nov 30, 2017 | ← Back to The Utopian Vol. 16.9 - 2017 | |
To place a comment you must apply for an account. After you fill and submit your application to us, our editors will review for approval. Also Blogs posted have to be first be approved by our editors. Please Click Here to Sign In or for our account application form Click Here.