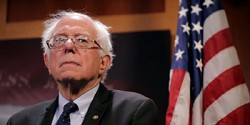 I am using the term "Stalinist" to refer to people who believe that socialism equals total (or almost total) state ownership and control of the economy, and hence, of all society, however they seek to arrive at that goal. In my view, there is a spectrum that ranges from Sanders/DSA all the way through to the various Marxist-Leninist organizations, the CP, Workers World, the SWP, the Spartacist League, the RCP, the CLP, PLP, et. al. To me, they are all "Stalinists." In the United States and increasingly around the world, the revolutionary vs. reformist distinction is losing its relevance.
| | | | |
| --- | --- | --- | --- |
| Size: 236.26KB | Post Date: Oct 11, 2017 | ← Back to The Utopian Vol. 16.8 - 2017 | |
To place a comment you must apply for an account. After you fill and submit your application to us, our editors will review for approval. Also Blogs posted have to be first be approved by our editors. Please Click Here to Sign In or for our account application form Click Here.